Harvest quality looks high at Pommery's Pinglestone Estate
13 OCTOBER 2022By Giles Fallowfield
Pommery was the first Champagne house to release its own English Sparkling Wine. It was launched under the Louis Pommery label in the spring of 2018, originally made from the 2015 harvest with bought in fruit from Kent, Sussex and Hampshire at Hattingley Valley's wine making facility in Hampshire.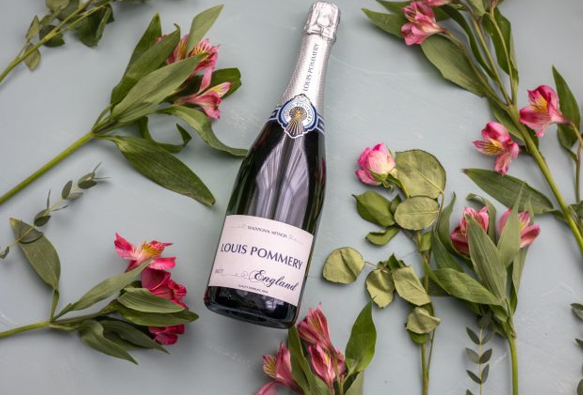 But now, with its own Hampshire vineyards maturing and plans to build a dedicated winery for the brand on site well advanced at the Pinglestone Estate, near Alresford, the brand is moving its allegiance to the county where Vranken Pommery Monopole (VPM) has been planting.
Last week I went to Pinglestone Vineyard to witness the first few days of the 2022 harvest, helping to pick very healthy looking, ripe, Pinot Noir, destined to go into a new, vintaged Louis Pommery cuvée. Between 2017 and 2019 VPM has planted 30.5 hectares of the 40 hectares purchased back in 2016. The majority of the planting taking place in 2018 and 2019.  "We won't plant more to preserve the balance of the eco system," says Julien Lonneux, CEO of Vranken Pommery UK. "Other areas are indeed left to biodiversity with woods, isolated trees, hedges and grass for sheep grazing.
VPM also purchased a further 10 hectares in nearby Lovington in 2019 where they plan to plant approximately 8 hectares between 2022 and 2023 and have already planted 4.5 hectares.
"To make Louis Pommery, at the outset we purchased grapes in Kent, Sussex and Hampshire," says Pommery's chef de cave Clément Pierlot, who oversees winemaking operations here too. "But we fell in love with this part of Hampshire and we decided to purchase land here in 2016 when Mr Vranken and I came and saw this hill — with its ideal, predominantly south/south-west facing slopes. We had our initial harvest in 2020 and that will be released [as a single vintage wine] under the 'Pinglestone Estate' label in one or two-years' time," says Pierlot.
The unvintaged cuvée Louis Pommery is still a blend of different harvests, with some fruit purchased from outside Hampshire but the latest release, based on the 2018 harvest, plus about 15% reserve wine from the two previous years (2017 and 2016), has a large majority of Hampshire fruit in the blend. With this third cuvée of Louis Pommery just released "which is 2018 based, we are getting close to the final blend we want," says Pierlot, "in terms of the proportion of reserve we'd like, which is about 15-20%. It's the same philosophy as at Pommery in terms of reserve wine. And each year we keep part of the final blend (between 7 and 10%) to use in future reserve wine, so the blend is improving every year."
The actual blend is very close to what they have physically planted – 55% Chardonnay, 30% Pinot Noir and 15% Meunier (plus a little Pinot Gris). "It's mainly Chardonnay we have here at Pinglestone," says Pierlot. "Chardonnay that has lots of floral, citrus notes and is very fine. Thanks to the reserve wine we can find a good balance between freshness and nice aromas of maturity." He expresses surprise that the UK sparkling wine production is "so vintage orientated, given the [high] acidity." The wine goes through 100% malo and dosage is around 8gms/l.
Picking here at Pinglestone began on Sunday (2 October) with a one-hectare plot of Pinot Gris and that start, was "nearly one month earlier than the difficult 2021 season". It's a bigger harvest too, but Pierlot says they lost about 50% of the crop to early frost in April. "The slopes on the hillside are very well exposed, but also susceptible to early frosts. We'll pick around 7,500kgs/ha here this year [about half the level Pommery reached on average in Champagne in 2022].
"Quality is awesome and we are reaching a very nice level of ripeness at between 10 and 10.5deg potential alcohol – very good for England – while acidity remains high. It's much better than last year in terms of ripeness," says Pierlot. "Both Chardonnay and Pinot Noir are ready to start at the same time. As usual picking dates are a compromise between ripeness levels and potential disease issues. The soil here is chalky and very close to that in Champagne, though not exactly the same type."
With Pierlot and vineyard manager James Bowerman we walked into a central plot of Pinot Noir near the top of the hill, planted with Clone 459. They also have some clone 777, which tends to get riper and Pierlot says they are keeping some of that back to produce red wine to make a rosé fizz from this harvest.
Here at the highest point of the vineyard the topsoil is clay with flint outcrops and the chalk is about one metre down, whereas at the foot of the hill, the chalk starts at only 20cms depth. Near the top of the hill its windy and they've planted over 3kms of trees to act as windbreaks and promote biodiversity too. The rows of vines here run pretty much north/south down the slope and after the hot, sunny summer they've had some sunburned grapes on the western side, which Pierlot and Bowerman alike say they have never seen in English vineyards before.
The vineyards on the eastern edge are only some 50 metres or so from the farm buildings at Pinglestone and there's a plot of unused land of just over one hectare in the field right next door, which is where the new winery will be built once planning permission has come through. Although they had hoped it would be in use for the 2023 harvest, planning delays mean it now looks like 2024 will be the first year they make Louis Pommery here. In the meantime, it will continue to be produced to Pommery's specifications and under their control at Hattingley Valley in Alresford, where Pommery have a new winemaker – Will Perkins — recently installed. "Perkins will be the winemaker for this project from 2023," confirms Pierlot, "but he has to go back to Australia in a couple of weeks before coming back full-time next year."